Blessed Herbs The Colon Cleansing Kit
1)Assures Regular & Comfortable Bowel Movements*
The herbal stimulant formula not only helps the bowels move regularly (2–3 times/day), but also includes carminative herbs that reduce or eliminate cramps, gas and griping that could be caused if stimulating herbs are taken by themselves.
2) Removes Old, Accumulated Waste from Your Small & Large (Colon) Intestines*
3) Rejuvenates the Digestive System*
The herbal formulas of the Colon Cleansing Kit™ are designed to restore and encourage the natural functions of your entire digestive system, including the stomach, both the small and large (colon) intestines, liver, gallbladder and pancreas.*
Stimulates digestive secretions*
Provides tonic support for digestive organs and mucus membranes*
Decongests the liver and stimulates bile flow*
4) Prepares You for the Internal Cleansing Kit™*
The Colon Cleansing Kit™ can be used (2-4 times/year) as a stand-alone cleansing therapy – or as the first step of our Complete Cleansing Program™. It is highly recommended to fully cleanse the colon prior to beginning the Internal Cleansing Kit™. A well-functioning colon enables the herbal formulas to work directly with the other five pathways of cleansing (liver, lungs, kidneys, skin and lymph), without having to deal with a "backed-up" body sewer (colon) – the 6th pathway.* And by removing old, accumulated wastes from the intestines, this allows the Para-Cleansing formulas of the Internal Cleansing Kit™ to rebalance the unwanted para-organisms population more easily and more completely.*
Contents of the Colon Cleansing Kit (Ginger or Peppermint)
Toxin Absorber™ (Ginger or Peppermint) - 30 Packets
Digestive Stimulator™ - 90 Vegetarian Capsules
Glass Shaker Jar - 1 Glass Jar with Lid (to mix Toxin Absorber™)
Dosage Calendar - 1 Printed Booklet
Users Guide - 1 Printed Booklet
What is Mucoid Plaque?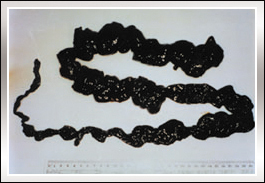 Mucoid plaque can be described as a gel-like, viscous and slimy mucus that forms as a layer or layers covering the inner lining of various hollow organs, especially the organs of the alimentary canal. It appears to develop in the presence of acids, where that mucus is secreted and coagulates.
As it continues to develop from unhealthy eating and lifestyle habits, mucoid plaque can harbor toxins and interfere with nutrient absorption, in a sense robbing your body of the vital components it needs to function. The Blessed Herbs Cleanse has been specifically formulated to assist your body in removing 'mucoid plaque'.*